Zhengzhou Zhonglian Harvest Machinery Co., Ltd is a professional combine harvester manufacturing company which integrates product research, parts producing, assembly of entire machine and product sales service. The company is founded in year 1995 and located in the middle of Zhiji Road of Xingyang city of Henan Province. The company covers about 150,000 square meters, and has more than 500 employees including 56 engineering technical managers and 67 skilled technicians. The total assets reaches Us$60 millions which contains working capital of Us$25 millions. The corporate credit ratting has achieved 2A+ in Industrial and Commercial Bank.
The company uses advanced OEM operating model, and owns perfect harvester parts outsourcing system and sales service network. The company has morn than 300 sales service sits and 150 outsourcing factories across the country.
The company products has 7 series and in total more than 100 types which cover wheat harvester, rice harvester, corn harvester, soybean harvester, rape harvester, corn seeds harvester and silage harvester. The company's products sell well in 16 provinces and autonomous regions of the country. In international market, the products mainly are exported to South Asia, Southeast Asia, West Asia, Africa, and Middle Europe. In year 2010, the company exported 100 machines to India. In year 2012, the company sent 50 machines to Guinea for supplying local agricultural production. In year 2015, the company researched 4LZ-7L model which is combination of chain wheel and rubber wheel. This new model is mainly exported to Malaysia for local paddy harvesting. The company total annual sales has exceeded Us$70 millions.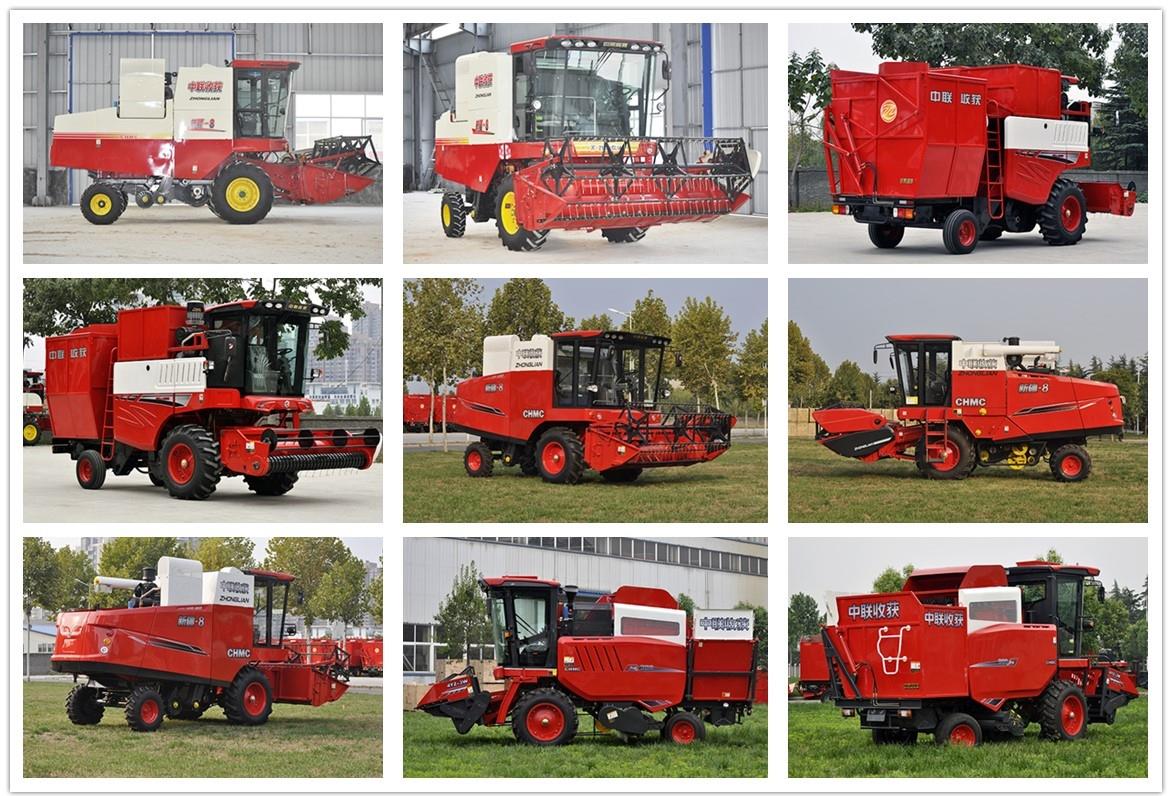 The company has 175 patents including 8 self-developed patents, and shares responsibility with China Agriculture University in National Eleventh Five-Year 863 High-Tech R&D Projects. The company has been successively identified as High-Tech Enterprises of Henan Province, Modern Agricultural S&T Leading Enterprise of Zhengzhou City, Agricultural Industrialization Key Leading Enterprise of Zhengzhou City, E-Business Key Demonstration Enterprise of Zhengzhou City, Outstanding Private Enterprise of Zhengzhou City, Quality Technology Innovation Demonstration Enterprise of Henan. The company research center has been identified as Provincial Enterprise Technology Center. Henan Harvest Machinery Equipment Engineering Research Center and Zhengzhou Wheat Combine Harvester Engineering Research Center are instituted in our company. The company has achieved ISO9001:2008 International Quality Management System Certification.
The company always aims to serve agriculture and create values for customers, promotes integrity, professionalism, collaboration and innovation as the spirit of enterprise, adheres to the pursuit of excellent quality and innovation-driven development as core values. The company is always dedicated in building global brand-name harvest machinery enterprise, and makes new contributions for the realization of global agricultural mechanization.