Wang Wenming: It Is A Wise Move To Choose Zhonglian Harvest
2022-04-28
  As a distributor, choosing the right manufacturer and product is half the battle. In the agricultural machinery industry, the reason why some dealers stay in place for many years or even close down after many years of development is because of the manufacturers and products they choose to act as agents. Wang Wenming, from Fugou County, Zhoukou City, is 60 years old this year. It has been 30 years since he established Cisco Agricultural Machinery Co., Ltd. as an agricultural machinery dealer, and the company is still operating well. Let's learn about his business methods.
  It turns out that Wang Wenming has been an agricultural machinery dealer since 1992, and he can be said to be an old agricultural machinery man. "The reason why I chose to enter the agricultural machinery industry is that we consider that Fugou is a largely agricultural county with a lot of machinery, and I think it is definitely more stable to do this business. I also like to deal with the common people, thinking that as long as we operate with integrity and sell good products to the common people, There is definitely no problem in doing a good job in service. This is 30 years." Wang Wenming recalled.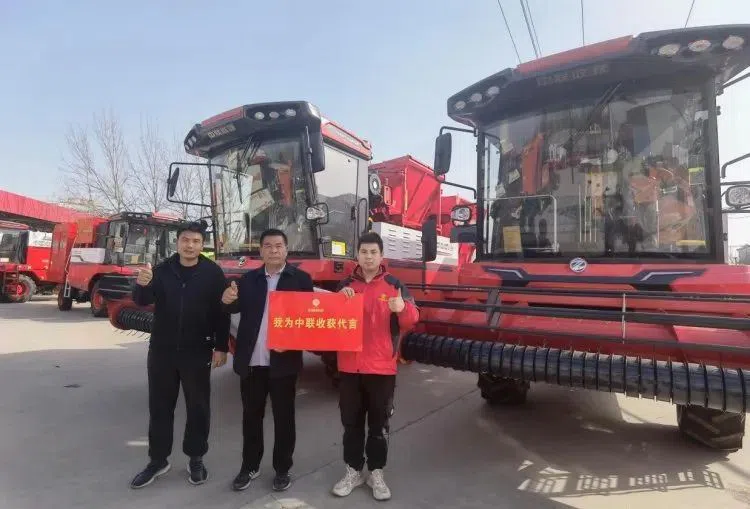 (Wang Wenming is in the middle, Wang Hang is left)
  In recent years, the agricultural machinery industry market has been sluggish, and both manufacturers and distributors are facing difficulties in survival. Wang Wenming expressed his opinion on this point. "The market situation has been really bad in recent years, especially in recent years, despite the hard work, profits are still low. Like our company, we have been phasing out some brands and products in recent years, and we have continued to choose better manufacturers to cooperate with, but we are choosing When I was a manufacturer, I always insisted on the quality of the products. Without good products to serve users, it is difficult for the company to have long-term development." Wang Wenming said.
  In 2018, according to the market development, Wang Wenming once again decided to replace the manufacturers and products that the company currently cooperates with. This time, he turned his attention to Zhengzhou Zhonglian Harvest Machinery Co., Ltd., an excellent enterprise from Henan Province. "Zhonglian Harvest has been well-known in recent years, especially its peanut harvester products, which have a very high market share. Seeing that other distributors who represent Zhonglian peanut harvester products make a lot of money every year, I am also envious. So in 2018, I took the initiative to contact the relevant person in charge of Zhonglian Harvest and expressed my strong willingness to represent their manufacturers' products. After the manufacturers came to our company for inspection and evaluation, they also selected our company. Since then, we have reached cooperation. Our company started to introduce the peanut harvester of Zhonglian, wheat machine, and other products one after another." Wang Wenming said.
  According to Wang Wenming's recollection, in 2019 alone, Cisco Agricultural Machinery sold more than 40 Zhonglian peanut harvesters. "Although I learned about the popularity of the peanut harvester of Zhonglian, it still exceeded my expectations. At the end of 2018, users came to pay deposits one after another, due to the large number of users who ordered the machine, and the manufacturers due to product demand. The supply is strong and the supply is insufficient, so many users who ordered the machine failed to buy it in the end. In 2019, more than 40 units were sold. By 2020, the sales volume will double directly, and in the following years, the sales volume will also increase year by year." Wang Wenming said.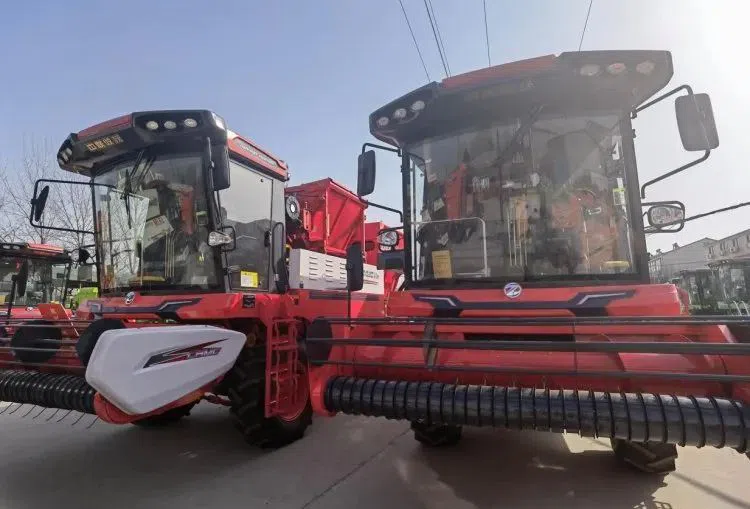 According to Wang Wenming's statistics, in Fugou County, the market share of Zhonglian's peanut harvesting machines is 95%, and the overall turnover of the products of Zhonglian accounts for more than 70% of the company's revenue.
  The peanut harvester of Zhonglian products not only sells well but also receives rave reviews. Users generally believe that their products are of good quality, clean harvest, and have a high income. According to the feedback from the operators, in Fugou County, about 800 mu can be operated in the whole operation season, and if about 2,000 mu can be collected across districts, the overall income is good. Seeing that Zhonglian Harvest Peanut Harvesters are more profitable, some operators buy four or five of them directly and hire someone to open them.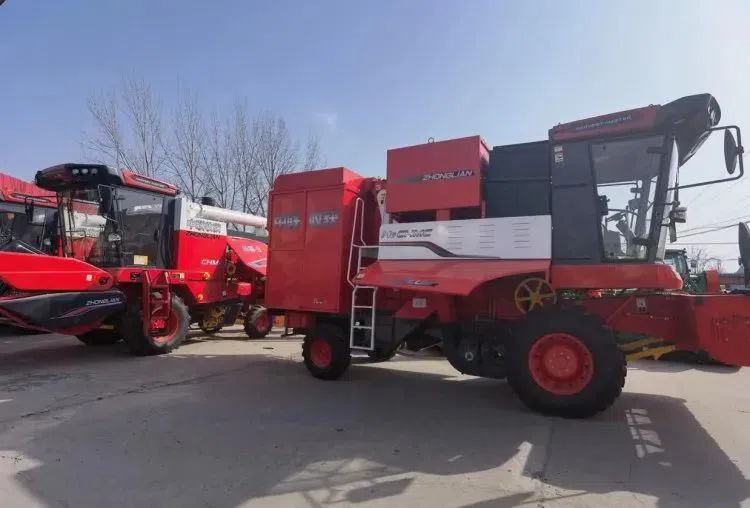 Regarding the relationship between dealers and manufacturers, Wang Wenming believes that it is very important for dealers to make money and to choose a good manufacturer. He said: "I think the choice is very important. Distributors bring manufacturers. Manufacturers like Zhonglian Harvest, which can seize the market development trend, focus on making products and make timely changes and adjustments, will inevitably lead dealers to become bigger and stronger. Cooperation with Zhonglian Harvest in the past few years, the company makes money is one aspect, I feel more is to follow the manufacturers to grow and learn a lot from them."
  According to Wang Wenming, Zhonglian Harvest attaches great importance to user experience and always puts products first, and upgrades and improves products every year based on user feedback to ensure more efficient production operations and higher user benefits.
  In the past few years, the company has been developing well, and Wang Wenming also began to slowly hand over the company to his son to manage, "I'm 60 years old this year, and it's time to retire. In the past few years, I have been handing over the management to my son and letting my son plan by himself. I will just give him a reference. He is very skilled in all aspects now, so I don't need to worry about it, I will help him in the morning, and in the afternoon I will go for a walk and live my retirement life."